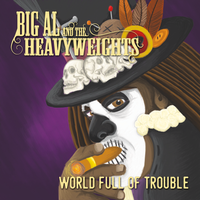 By Marty Clear
mclear@bradenton.com
May 17, 2017 04:21 PM 
Big Al & the Heavyweights may not be household names, but if you like roots music with some Louisiana spice, you probably know them. 
Their records do OK, and they've had a following for 25 years, when they started out as the Unknown Blues Band. But they're particularly well-known for their live shows. They play more than 200 a year, and you can catch them this weekend when they come to the Blue Rooster in Sarasota for one show only on Saturday night. 
"Big Al" is Al Lauro, who founded the Unknown Blues Band with Warren Haynes. They were both playing in outlaw country artist David Allan Coe's band, and they bonded over their love for roots music. Haynes got an offer he couldn't refuse, to join the Allman Brothers Band, so Lauro retooled the band into Big Al & the Heavyweights. 
Their albums got great reviews, but the band credits its big break to Dan Aykroyd, who featured its song "House Party" on his House of Blues Radio Show as the Blues Breaker of the Week.
The Heavyweights' sound has been described as an "unconventional" blend of American roots music, funk, blues, jazz, zydeco and country. 
The band is touring in support of its upcoming CD "World Full of Trouble," which features Bob Margolin from the Muddy Waters band and Bradenton Blues festival alumnus Jason Ricci.