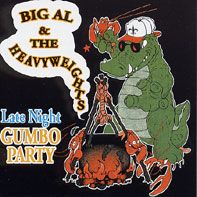 Famous Dave's, Minneapolis, MN 
April 13, 2002 
by Rich Benson
Big Al and the Heavyweights brought their upbeat, New Orleans blues spiced with a little Cajun and Zydeco to Famous Dave's this Saturday night. From their first helping of slow, New Orlean's blues on "Cajun Roux" to their last offering of fast, rocking blues on "House Party" the band kept the crowd up and moving and inspired by their energy, enthusiasm, and strong playing. Jason Ricci, their new harp player / vocalist added to the energy and passion of the band. 
This band embodies the spirit of New Orleans, Mardi Gras, and having a good time as you alternately party or stop to reflect on life. Rewarding the first group of dancers with beads, the band actively encouraged people to get up, dance around, and most of all have fun. Guitarist Tim Wagoner is a solid player with a smooth, clear, tenor voice. He can sing fast, strong, and happy upbeat tunes or give soulful, pained readings that match his guitar playing on songs like "Where's My Baby." On "Make It Rain," a beautiful, slow blues grinder from their earlier material, Tim's expressive, wailing guitar matched the pain of his vocals. 
Everyone in this band sings lead at one time or another. Bass player Dave Burns handled lead vocal on their new, funky, zydeco influenced song, "Zydeco-co" in his gruff, bass voice with the rest of the band providing some great backing harmonies. Harp player Jason played some strong, funky chromatic harp on "Baby Scratch My Back," walking deep into the crowd to play. His vocals were equally strong, delivered in a hip, passionate style. He kept right on going with "Do the Hip Shake Baby," playing some great harp trills as he and Tim walked and played through the crowd, slowly building the song to a rousing, up-tempo climax. And behind them all drummer Big Al Lauro keeps the rhythm, tosses out Mardi Gras beads, and incites the crowd to dance and have a good time. 
One song that stood out in their second set was "I Feel So Bad (I must have had a good time" from their latest CD. This slow, steady blues beat tells the morning after of what must have been one heck of a party the night before. A second was "Eat More Crawfish" from their Live Crawfish CD. Here the band serves up eating more crawfish as a cure to whatever ails you, as well as the right way to eat them. This band loves to create a party atmosphere and get the crowd pumped up with their high-energy music, infectious humor, and solid blues music. If you're ever feeling down, Big Al and the Heavyweights can help pick you up and get you moving. Before you know it you'll be wearing beads and dancing with all the other happy, sweaty fans on the dance floor.