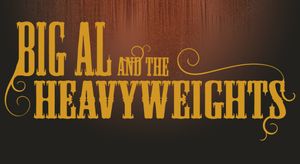 By Eddie Ritz
Posted Aug 13, 2016 at 12:01 AM
Updated Aug 13, 2016 at 6:58 AM 
Want a big bowl of musical goodness? Then don't miss Big Al & The Heavyweights. With a style that blends blues, Zydeco, rock and everything else, they've created a sound that is sure to please. Formed in 1996 as the Unknown Blues Band, the group has had many talented members in its lineup. Two of these members were Warren Haynes (Allman Bros, Gov't Mule) and Rick Gergen (Sweethearts of the Rodeo). The current roster includes Dean Galatas on bass, Lance Younger on guitar, Destin Thibodeaux on harmonica and the man himself, Big Al on drums. Big Al's playing has been described by Blues Brother Dan Akroyd as the "pounding, driving force" behind the music of the group.